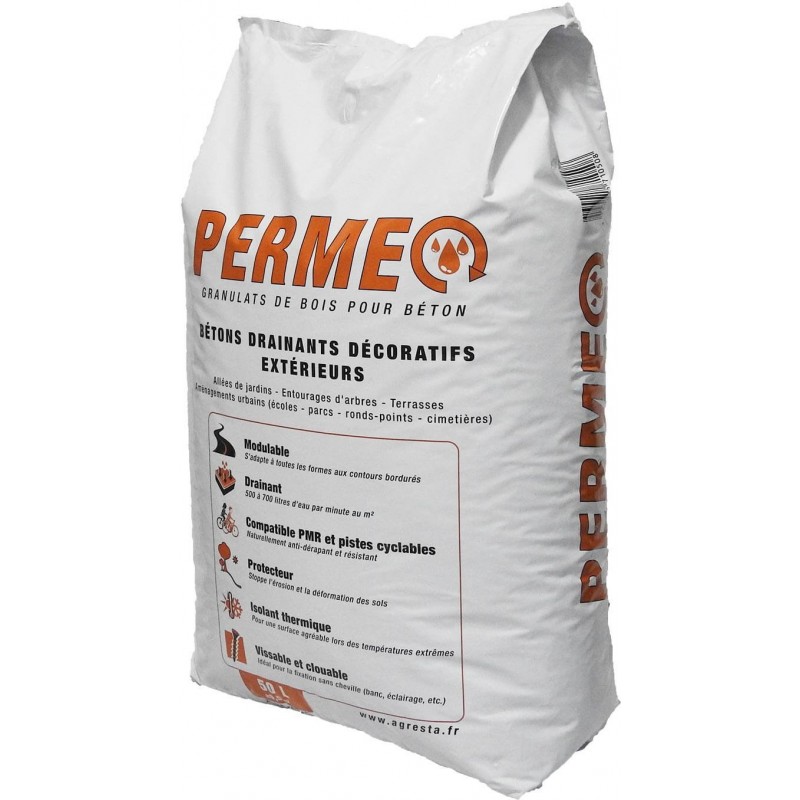  
PERMEO : PERMEABLE CONCRETE (CEMENT + WOOD)
PERMEO® is a mixture of engineered wood aggregate and cement which provides porous surface for many different applications. Its implementation is very easy and the result is very aesthetic. It is available in 9 different colours. It will give you a practical and hard-wearing surface with endless design possibilities.
PERMEO® is an alternative to resin bound gravel or other permeable surfaces. It is mixed on site in a concrete mixer and hand laid onto a suitable surface. It provides an attractive, hard-wearing and low maintenance surface. Compared to other porous surfacing materials PERMEO® provides numerous advantages, still it is more economical and easier to implement.

Permeability :
Drainage capacity : from 500 to 700 liters water per minute on 7 cm thickness.


Application areas :
Urban developments : Tree surroundings, roundabouts, open areas
Park and garden development : Pathways for pedestrians, bicycles and strollers
Access ramp for disabled people
Campings, terraces and pergolas
Schoolyards
Cemeteries
Advantages et properties :
For tree surroundings :
- Makes tree pits cleaner.
- Adaptable to the growth of trunks.
- Resistant to deformations.
- Easy to implement and to maintain.
- Protects soil from heat and freeze.
- Reduces water evaporation from soil.


For draining surfaces :
- Provides excellent resistance on steep slopes: nonslip.
- Cleanliness and permanent security.
- Suitable for bicycles, strollers and wheelchairs (accessibility).


- Durable colour stability.
- Resistant to occasional passage of light vehicles.
- Quick and simple implementation (about 15 min for 5m² area).

- Lets water penetrates immediately.
- Prevents puddling.

- Auto-Regulation of surface temperature.
- Resistance to frost and climatic variations.

- Easy maintenance (with blowers or vacuum and water).

- Made in France since 1977.
Colour chart :

Depending on chosen cement type (grey or white) and colouring powder, mixture provides different colours to match surfaces with their environment.